Citizen groups fault quality of work done on leaking amenity, call out PMC for compromising on safety in its pursuit of cheapest options during tendering
The product of an eight-year legal struggle and an investment of Rs 25 crore, the Ramwadi underpass on Pune-Ahmednagar Road linking Viman Nagar and Kalyani Nagar was slated to decongest traffic on the New Airport Road and Kalyani Nagar. But six years since its opening, it has turned into a hazardous passage for motorists, with its roof and walls leaking and concrete chipping off the ceiling's slab.
Most users of this critical linkway are now mortally scared of it, having encountered the dripping ceiling mid-summer that has rendered the path slippery, and visible cracks looming. Despite the long lull in traffic through the lockdown, the underpass has already reported 12 accidents in the past one year.
Pune Municipal Corporation (PMC). The Association of Nagar Road Citizens Forums (ANRCF) and Viman Nagar Citizens Forum (VNCF) have sent letters to the municipal commissioner and chief engineer of PMC's project department, accusing the civic body of compromising quality of work in their pursuit of the cheapest option during tendering. They also called out PMC for not monitoring the condition of the underpass, leaving it to citizens to draw its attention to the state of disrepair.
"The wide cracks evident on the ceiling of the underpass are a serious issue that needs to be attended to immediately, before bigger peril befall its users, such as chunks falling on the heads of motorists. If necessary, PMC should close the underpass to get the work done. This is a sampling of the kind of bad road engineering undertaken wasting taxpayers' money. Given the abysmal condition, it is clear that bad quality of material was used to build it. Based on my earlier complaints, some walls were replastered but their condition quickly deteriorates. The place has become particularly treacherous for cycles and twowheelers and can trigger fatal accidents," pointed out Qaneez Sukhrani , convener of ANRCF.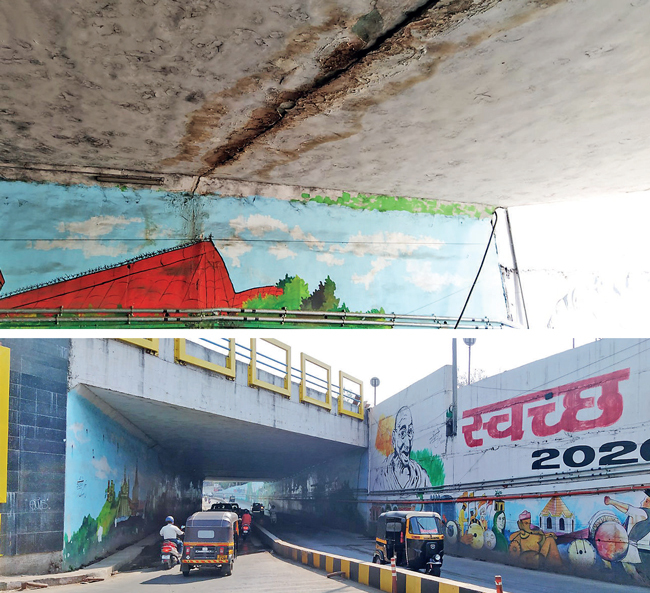 The underpass linking Kalyani Nagar and Viman Nagar cost Rs 25 crore to make; now, it has already reported some 12 accidents in just the past one year; PIC: NIKHIL GHORPADE
Likewise, Umesh Magar, member of VNCF, added, "Putrid water continues to seep through. Obviously measures taken to stop this so far have been inadequate. Instead of calling in experts to get to the bottom of the problem, PMC's project and water supply departments and the ward office concerned are engaged in a blame game, pointing fingers at each other."
Pramod Deokar-Patil, a resident of Ramwadi, observed, "The safety aspects on the stretch have been grossly neglected, focusing more on the decorative aspect of the work. There is also some encroachment pending to be removed so the underpass can be widened."
Shrinivas Bonala, chief engineer (projects), who is also in charge of traffic planning department of PMC, did not respond to calls and messages. However Sandeep Patil, deputy engineer (projects), said, "We've visited the site and checked the status of the underpass slab. The water actually comes from the gaps created by the expansion of the bridge's joints. We did not notice any slab or concrete disintegration, but if it's there, we will ensure that it is repaired. We are also exploring chemical treatment to plug the leakage, but are hampered by budget constraints. Once money is allocated, work will be undertaken."