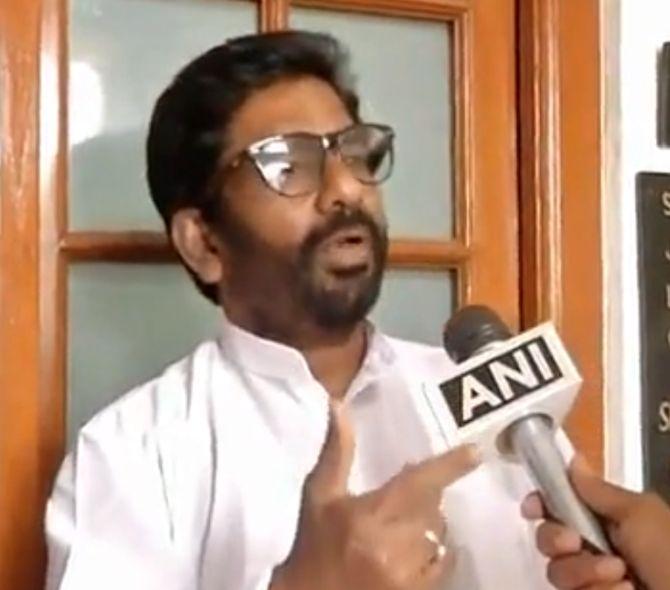 State carrier Air India on Friday barred Shiv Sena MP Ravindra Gaikwad, who had assaulted its staffer, from its flights and even cancelled his return ticket to Pune from Delhi.
Gaikwad, who has been unapologetic about the incident on Thursday, had earlier on Friday said that he will be taking the Air India flight in the evening.
Air India said it has also written to the Shiv Sena communicating the decision to cancel the ticket. Shiv Sena Secretary Anil Desai said that he has asked Gaikwad to change his travel plans as the party doesn't want the tensions to escalate.
Gaikwad was booked on Delhi to Pune flight AI 849 scheduled for departure at 4 pm on Friday.
"We have intimated Shiv Sena that we can't fly Gaikwad on his return flight because our employees are agitated. He has assured us that the party will advise the MP not to fly Air India today," said an Air India source.
WATCH THE VIDEO OF GAIKWAD HITTING THE AIR INDIA STAFFER
"Our airport employees have said that they won't attend to him and they won't let him enter. In order to avoid any violence, we have written to Shiv Sena," he added.
Budget carrier IndiGo also refused to take him on board.
The Sena MP had booked a ticket on IndiGo flight to Pune for Friday evening, which has been cancelled by the airline, sources said.
"He had booked on IndiGo's fight today at 1750 hours from Delhi to Pune. But the airline has cancelled the booking and is refunding the entire amount," the source told PTI .
In a related development, Tata-SIA joint venture carrier Vistara also joined the national carrier Air India and four private carriers' decision to ban Gaikwad from flying.
Disruptive and abusive behaviour by passengers is a serious issue and cannot be tolerated, both for safety and security reasons in a critical and sensitive industry such as aviation, as well for the safety and well-being of our staff and all other passengers, a Vistara spokesperson said.
"We support the statement made by Air India and the FIA, and are in full solidarity with them in support of the ban. The concerned individual will be barred from flying on any of our flights with immediate effect," the spokesperson said.
The airline also supports the promulgation of a "no-fly" list and concurs with the FIA and Air India in seeking the support of the Government and security agencies to enforce such a directive whereby passengers on the "no fly list" will not be permitted to fly on any of the airlines, Vistara said.
Gaikwad told TV channels on Friday morning, "I am booked on a 4 pm flight to Pune. I will take that flight. How can they not let me travel when I have a booking and I am their passenger."
Desai, also an MP, said that he has "acceded" to Air India's request and has also asked Gaikwad to "change his travel plans".
"An Air India official called me that their staff is upset over the issue. I have acceded to their request by asking my MP not to go ahead with his plan to fly Air India today," said Desai .
"I have also asked him to change his travel plans. We don't intend to escalate the tension," he added.
Earlier, The Federation of Indian Airlines, which has Jet Airways, IndiGo, SpiceJet and GoAir as its members, has taken a "strong view of the incident and accordingly taken a decision to bar Gaikwad from flying," an FIA source said.
The FIA will not allow the Sena MP to fly on its member carriers, the source said.
It is likely to come out with a detailed statement on the issue soon.
Meanwhile, budget carrier IndiGo on Friday said it will support any move which bars unruly passengers from flying, a day after Air India said it was mulling preparing a no-fly list for such people.
"We will support a no-fly list," IndiGo President and Whole Time Director Aditya Ghosh said.
Disagree with the Shiv Sena MP's actions? BOO him!