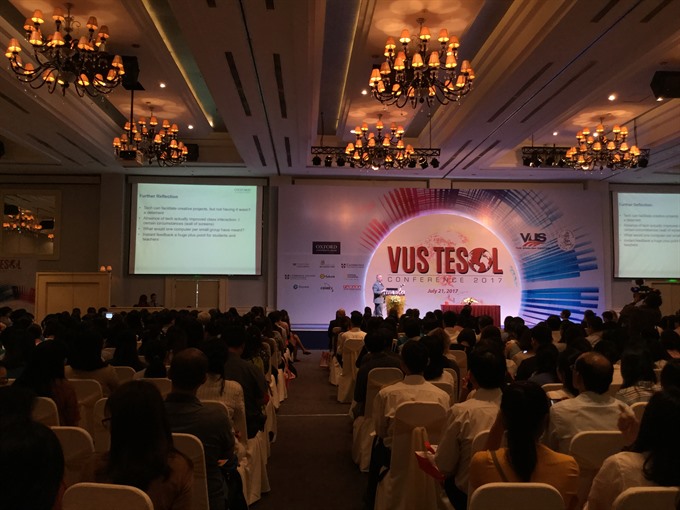 A conference, themed "Redefining English Language Teaching & Learning in the 21st Century Context", is held on Friday to discuss the changes and innovations in English-language teaching and learning in a world where students are surrounded by developing technology, internet access and a myriad of digital devices. — VNS Photo Gia Lộc
Viet Nam News
HCM CITY — "Avoid or embrace technology?" is a question faced by educators in the 21 st century as students become increasingly dependent on their smart devices.
"We can no longer avoid our students' love of and dependence on technology," said Ushapa Fortescue, an Oxford Teacher Academy trainer.
Fortescue spoke at the annual Teaching English to Speakers of Other Languages (TESOL) Conference 2017 held on Friday in HCM City, organised by the Vietnam-USA Society English Centers .
Fortescue said that teachers should understand how digital natives interact and allow the use of cellphones, which she had previously banned in her classroom.
She uses cellphones to teach listening skills to her students, and encourages students to talk about topics such as the last photo they took, the nicest message they received during the week, or the person who contacts them the most.
"I also allow the students to have Facebook time in the classroom," she said, adding that on a class Facebook page, students can write messages on the page's wall.
This gives them practice in writing, but Facebook time should be limited to only five to 10 minutes, she said.
When students in her classroom prepare for the Cambridge English exams, they are given guidance in how to interact with teachers, classes in other countries and Cambridge English pen friends via social media.
Joanna Raskin, the commercial head of Southeast Asia and the Pacific at Cambridge English Language Assessment, which is part of University of Cambridge, said that English teachers should help their students learn how to use and share digital resources by creating, organising and uploading information with certain tools, media and social networks.
Such resources can build collective and personal understanding, Raskin said.
Integrating skills such as critical thinking, communication, problem-solving and collaboration into English teaching are also important, as well as the effective use of references.
Students also need help in building competency in soft skills and foreign-language proficiency to assist them in future work, she added.
Gordon Lewis, vice president of Language Programmes for Laureate Higher Education at Laureate International Universities based in the US, said that not all innovation was connected to technology.
"In fact, technology can even have a negative impact on innovation in certain circumstances," Lewis said. "It can facilitate creative projects, but not having it isn't always a deterrent. Absence of technology has actually improved class interaction."
The conference, with the theme "Redefining English Language Teaching & Learning in the 21st Century Context",  focused on the changes and innovations in English-language teaching and learning in a world where students are surrounded by developing technology, internet access and a myriad of digital devices. — VNS