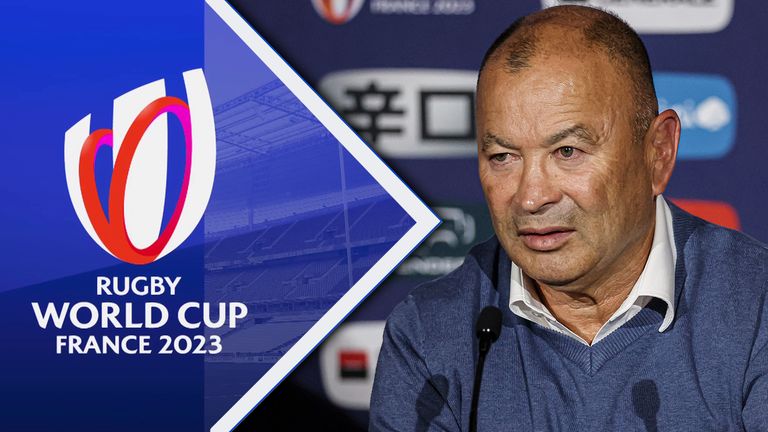 Please use Chrome browser for a more accessible video player
After their heavy defeat to Wales at the Rugby World Cup, Wallabies head coach, Eddie Jones hits out at questions about his commitment to Australia
After their heavy defeat to Wales at the Rugby World Cup, Wallabies head coach, Eddie Jones hits out at questions about his commitment to Australia
Australia boss Eddie Jones has apologised to his country following the Wallabies' crushing defeat to Wales.
Wales cruised to a 40-6 victory to qualify for the quarter-finals, leaving Australia stranded with the possibility of exiting the World Cup at the pool stage for the first time in their history.
Australia are not officially out of the tournament but need multiple results to go their way including Wales beating Georgia and Georgia overcoming Fiji.
"Firstly, I would just like to apologise to all the Australian supporters. Our performance was not up to the standard that was required. I apologise for that. I take full responsibility for it," said Jones.
"We are disappointed, we have a young team in there very disappointed. They tried their hearts out but unfortunately at the moment we don't have consistency in our play to put pressure on teams like Wales. We do some good things and then fall away. It's very disappointing.
"Congratulations to Wales. I thought they played a good, tough game of rugby. They kicked well, chased well and had a couple of opportunities to score tries which they took. Well done to Wales."
Asked whether he was still committed to the Australia project, Jones added: "One hundred per cent. I came back to Australia trying to help. At the moment I am not giving much help, am I? But that doesn't mean my commitment to helping has changed.
"I am a proud Australian, I hate to see Australian rugby do as poorly as we have been doing, particularly under my reign.
Last week, Fiji recorded a shock 22-15 victory against Australia and it left Jones admitting he may lose his job post-World Cup.
The Wallabies' loss to Wales marked their seventh defeat in eight Tests this year.
Meanwhile, Wales have reached their fourth consecutive World Cup quarter-final under Warren Gatland as head coach and celebrated one of their best performances against Australia.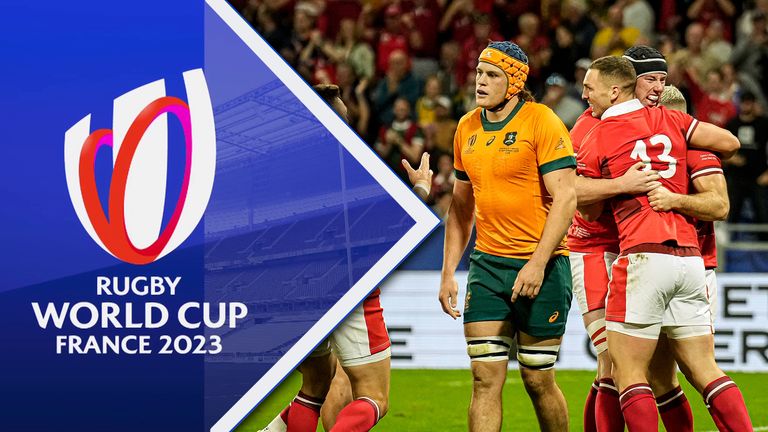 Please use Chrome browser for a more accessible video player
Highlights from Sunday's Rugby World Cup action as Wales hammer Australia and Scotland keep World Cup quarter-finals hopes alive with bonus-point win over Tonga
Highlights from Sunday's Rugby World Cup action as Wales hammer Australia and Scotland keep World Cup quarter-finals hopes alive with bonus-point win over Tonga
Gatland: Life is about what you deserve, and we deserved to win
Wales head coach Warren Gatland said:
"I thought it would be a close game, in fairness we had a great week training in terms of preparation. We have put a lot of work in the last four months as a team together, we are a momentum team, we build on confidence in terms of performances.
"It was an outstanding performance in terms of what we wanted to achieve, game-management. We were blowing a bit at half-time but I thought we went out and controlled the second half fantastically well.
"The fact they didn't score any tries. We spoke at half-time about our line speed, we didn't feel it was good enough to start with in terms of getting off the line. That was a big focus for us, making sure we were a little bit more impressive first three or four steps. We definitely improved in the second half with that."
On how far Wales can go in the tournament, Gatland added: "Hopefully we can make the quarter-finals! We haven't looked past anything yet, it has been one game at a time. I know Australia came into this game feeling confident about winning… we felt confident to produce a performance. I thought we were clinical. I know a lot has been said about this side of the draw, it is what it is, we can't do anything about it. It's not our fault.
"Our focus will be on Georgia, a team we lost against in the autumn. We need to rectify that and we need to make sure we don't drop our standards. I think these players are well aware of that, they have worked incredibly hard."
North: It was a dominant performance and the boys are thrilled
Wales centre George North told ITV Sport…
"We're getting closer to that performance that we know we can do. There's still a bit to tidy up but three wins from three in the group stages, we've got one more big game to come, but the boys are ecstatic.
"Huge effort from the 23 and 33-man squad all week. After the Portugal game we kicked on again and the result today showed. It was a dominant performance and the boys are thrilled with it.
"It's a huge effort from the start, we get what you put in and the boys have put in from minute one.
"After Fiji I was hard on us saying we need to tidy a lot up, and we have, but to do that to an Australia team is a good performance in our book."
Twitter
Due to your consent preferences, you're not able to view this
Privacy Options
What's next?
Australia face Portugal on Sunday October 1 in their Pool C game at Stade Geoffroy-Guichard in Saint-Étienne, France (4.45pm kick-off BST).
Wales are next in action against Georgia on Saturday October 7 at Stade de la Beaujoire in Nantes, France (2pm kick-off BST).