Fox News Flash top sports headlines are here. Check out what's clicking on Foxnews.com.
College athletics has experienced a massive makeover over the past two years as name, image and likeness (NIL) has taken over.
With players now able to profit from their name , athletes are basing decisions on where to play at least partly on how much money they stand to make during their college careers.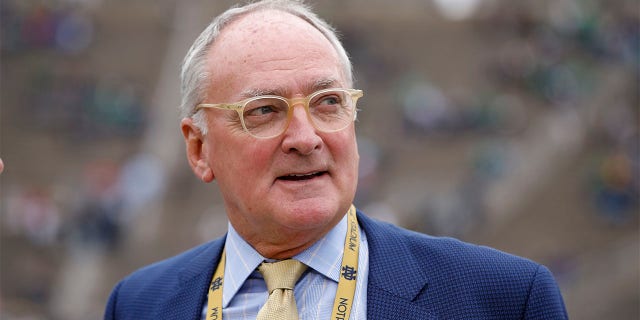 Notre Dame Fighting Irish athletic director Jack Swarbrick is seen before the game against the Ball State Cardinals at Notre Dame Stadium on September 8, 2018 in South Bend, Indiana. Notre Dame defeated Ball State 24-16. (Michael Hickey/Getty Images)
NIL collectives have been established across the country, seemingly creating a "pay-for-play" situation where athletes are being recruited with NIL deals as part of the pitch.
MIAMI'S CAVINDER TWINS INK NIL DEAL WITH CONTROVERSIAL AI COMPANY, HELP TEAM TO MARCH MADNESS UPSET
On Thursday, University of Notre Dame director of athletics Jack Swarbrick told Sports Illustrated that without stronger rules and regulations around NIL, and if student-athletes are deemed employees, the NCAA could splinter.
Swarbrick said NIL spending is creating division among schools.
"If we can't start to get ourselves to where we can make rational decisions like those and enforce them, the future will be more than one athletic association. I can tell you that," Swarbrick told SI.
"We've got to get our act together as college athletics and do the things we can do. We keep sort of implying we can't address name, image and likeness. Of course, we can," he continued. "We can do it in ways requiring reporting on transactions, requiring that there be transactions. We have to take that on as opposed to looking to others to fix it for us."
ALABAMA'S NICK SABAN TALKS NIL, SAYS RECRUITS ARE CHOOSING TO PLAY 'WHERE THEY CAN MAKE THE MOST MONEY'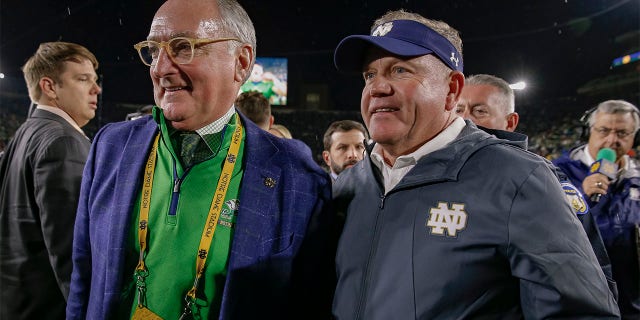 Athletic Director Jack Swarbrick and Head coach Brian Kelly of the Notre Dame Fighting Irish speak following the game against the Stanford Cardinal at Notre Dame Stadium on September 29, 2018 in South Bend, Indiana. (Michael Hickey/Getty Images)
Swarbrick also wrote an op-ed – along with Notre Dame President the Rev. John Jenkins – in the New York Times on Thursday to explain why "college athletics is in crisis."
"It faces threats on a number of fronts: the growing patchwork of contradictory and confusing state laws regulating it, the specter of crippling lawsuits, the profusion of dubious name, image and likeness deals through which to funnel money to recruits, the misguided attempts to classify student-athletes as employees," Jenkins and Swarbrick wrote. "Underlying all that is the widespread belief that college athletics is simply a lucrative business disguised as a branch of educational institutions."
CLICK HERE FOR MORE SPORTS COVERAGE ON FOXNEWS.COM
And while Swarbrick and Jenkins agree that student-athletes should be allowed to profit off their name, image and likeness, they argue that the current rules around NIL are easily abused.
"Unfortunately, the new N.I.L. rules have proven to be easy to abuse," they wrote. "To avoid the N.C.A.A. prohibition against directly paying athletic recruits, many schools funnel money to recruits under the guise of a supposed third-party licensing deal — regardless of whether a player's name, image and likeness have any market value whatsoever. We must establish and enforce regulations that allow legitimate transactions while barring those that are recruiting enticements or pay-for-play."
CLICK HERE TO GET THE FOX NEWS APP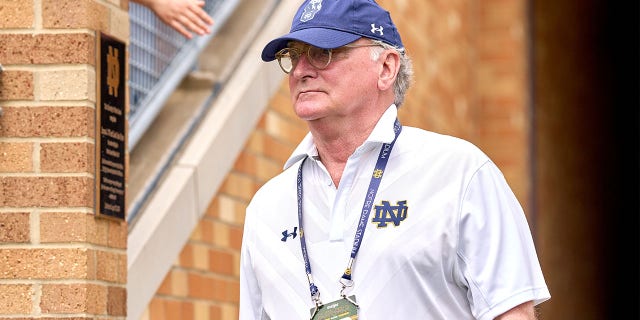 Notre Dame athletic director Jack Swarbrick looks on during the Notre Dame Blue-Gold Spring Football Game on April 23, 2022 at Notre Dame Stadium in South Bend, IN. (Robin Alam/Icon Sportswire via Getty Images)
Swarbrick told SI that the NCAA needs to create NIL policies, including that all NIL transactions should be required to be reported to the school by athletes. He also suggested the schools should be responsible for ensuring that any NIL deal includes the athlete contributing NIL value with compensation that reflect "reasonable market value."
"People were paying under the table for as long as I've been around," Swarbrick said. "Now it's the same payment, but they're calling it NIL. We're not going to stop it. It's not going to all go away. But we've got to get out of this position where the vast majority of the transactions occurring are not what they are being characterized as."
"Educational institutions ought to be embarrassed to be part of it; 'We're going to conduct a fraud here.'"
Joe Morgan is a Sports Reporter for Fox News.