Rep. Mark Green, R-Tenn., discusses the White Houses plans to tackle the expected migrant surge at the border when Title 42 ends on Fox News @ Night.
FIRST ON FOX : The House Homeland Security Committee will hold a hearing next week that officially launches an investigation into the alleged "dereliction of duty" by DHS Secretary Alejandro Mayorkas in his handling of the ongoing crisis at the southern border.
The hearing, "Open Borders, Closed Case: Secretary Mayorkas' Dereliction of Duty on the Border Crisis," will take place on Wednesday and will include testimony from former acting DHS Secretary Chad Wolf, former Border Patrol Chief Rodney Scott and former acting U.S. Citizenship and Immigration Services director Joe Edlow.
The committee has undertaken a vigorous oversight timetable toward the Biden administration's handling of the migrant crisis — which spiraled to historic levels under its watch. The committee held a bombshell field hearing in March, in which Border Patrol Chief Raul Ortiz described a situation in which agents were overwhelmed in multiple sectors where there was no operational control of the border.
Since then, the committee played a central role in forming a border and immigration package, which passed the House in May, but has not yet been picked up in the Senate.
With the House passage, an investigation of Mayorkas' conduct is on the table, committee chairman Rep. Mark Green told Fox News Digital.
EX-DHS CHIEF WOLF ACCUSES BIDEN ADMIN OF 'CRISIS BY DESIGN' AT THE BORDER, CALLS FOR NEW LEADERSHIP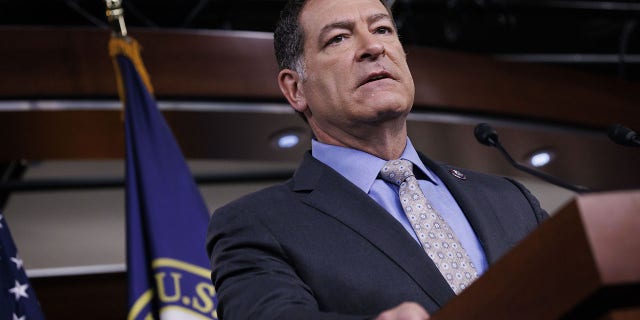 Representative Mark Green, a Republican from Tennessee, speaks during a news conference at the US Capitol in Washington, DC, US, on Thursday, April 27, 2023. (Ting Shen/Bloomberg via Getty Images)
"We passed the legislation, and now we're gearing up to hold Mayorkas accountable. That's essentially what starts next Wednesday. And it's going to be a process of basically investigating, looking at the facts of the decisions that have been made by this secretary and how it's impacted the American people," he said.
Many Republicans, including House Speaker Kevin McCarthy, have floated a potential impeachment of Mayorkas — with some members even introducing articles of impeachment against the DHS chief. But Green says the committee isn't at that point yet.
"My mission as the chairman of [the committee] is 'get to the facts.' So we're not talking about that. We're not using that word. Every single thing we're going to look at, every rock we're going to look under is to find the facts," he said. "And the facts, I think, are going to show that he has disregarded the laws passed by Congress, subverted those laws, been dishonest to Congress and the American people, among many, many other things. And we're just going to get to the bottom of all that."
APPEALS COURT DENIES BIDEN ADMIN REQUEST FOR STAY IN CHALLENGE TO MIGRANT RELEASE POLICY
The Biden administration has backed Mayorkas, and has pushed back on Republicans and conservatives calling for his ouster. The agency has pointed to a sharp over 70% drop in border encounters since just before the end of Title 42 in May that it says shows that its plan is working "as intended."
That plan includes a significant expansion of lawful pathways — including greater use of the controversial CBP One app and various parole programs — an asylum rule to limit claims by those who enter the country illegally, greater cooperation with Mexico, and stiffer penalties under Title 8, as well as increased repatriations. The administration has instead called on Congress to provide more funding and pass a sweeping immigration bill that the administration introduced on Day One. It has also touted a number of anti-smuggling efforts that it has launched in the region with regional partners.
"Secretary Mayorkas is proud to advance the noble mission of the Department, support its extraordinary workforce, and serve the American people," a spokesperson told Fox News Digital this week in response to criticism of Mayorkas in a separate hearing. "The Department will continue to enforce our laws and secure our border, protect the United States from terrorism, and improve our cybersecurity, all while building a safe, orderly, and humane immigration system.
"Instead of pointing fingers and pursuing baseless attacks, Congress should work with the Department and pass comprehensive legislation to fix our broken immigration system, which has not been updated in decades," the spokesperson said.
Green is skeptical of the numbers cited by the administration, noting that they are comparing to a historic spike of 10,000 migrants a day seen a few days before the end of Title 42, and arguing that there has been a lack of transparency on specific numbers from the administration that his committee has requested.
"It's a shell game, and we're going to get to the bottom of that in this investigation, too," he said.
CLICK HERE TO GET THE FOX NEWS APP
He also rejected claims that the administration has been working to secure the border.
"What Alejandro Mayorkas has done has created an open border. And that open border was intentional. And unfortunately, the cartels have seized that opportunity, made billions of dollars on human trafficking, and they've also sent fentanyl into the United States in record numbers, killing Americans," he said.
"So I think I have a duty to find out the answers about why and how. And I need to inform the American people of just exactly the failure that this secretary has been," he added.
Adam Shaw is a politics reporter for Fox News Digital, primarily covering immigration and border security.
He can be reached at [email protected] or on Twitter .