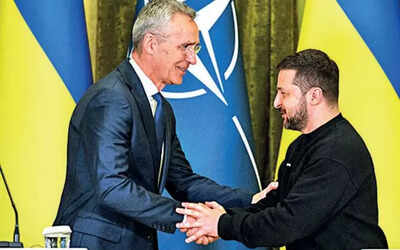 Nato chief Jens Stoltenberg and Ukrainian President Volodymyr Zelensky at the end of a joint press conference in Kyiv on Thursday
KYIV:
Nato
chief
Jens Stoltenberg
defiantly declared on Thursday that
Ukraine
deserves to join the military alliance and pledged continuing support for the country on his first visit to Kyiv since Russia's invasion just over a year ago. Ukraine President
The Kremlin has given various justifications for going to war, but repeated on Thursday that preventing Ukraine from joining Nato was a key goal behind its invasion, arguing that Kyiv's membership in the alliance would pose an existential threat to Russia.
"Let me be clear, Ukraine's rightful place is in the Euro-Atlantic family," Stoltenberg told a press conference. "Ukraine's rightful place is in Nato. " He said he and
He noted Thursday's announcement by Denmark and the Netherlands that they plan to provide Ukraine with at least another 14 refurbished Leopard 2 battle tanks from early 2024. . Meanwhile, the Ukraine Space Agency said a bright flash of light in the night sky over the country the previous day was probably a meteorite entering the earth's atmosphere.